NM Community College Creates Path to Bachelor's Degree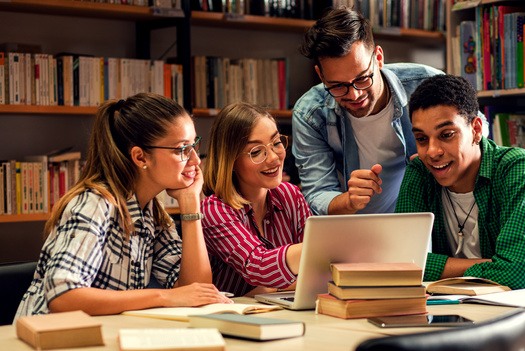 When it opened in 1973, Doña Ana Community College in Las Cruces, New Mexico, focused on relatively short-term training. It's since branched out to acknowledge that many careers require education beyond a certificate or associate degree, and is helping students get onto a path to a bachelor's degree. Comments from Mónica Torres, president, Doña Ana Community College.

Enrollment at both two- and four-year colleges has taken a big hit during the pandemic, and administrators must now convince potential students it's worth their investment to return.

Monica Torres, president of Doña Ana Community College in Las Cruces, said one renewed focus is STEM - science, technology, engineering and math - a field many Hispanic students avoid because it can require more years of study, which might be hard to make their money stretch. She said she believes community colleges can offer a solution.

"There are times when students have to get onto the computer science highway almost immediately to graduate in four years," she said. "So, we're seeing more community colleges working on those lower-division research experiences."

A recent Pew Research report found that Hispanic Americans are significantly underrepresented in the ranks of scientists and those in allied professions. Hispanics make up 17% of the total workforce, but only 8% work in a STEM-related field.

Torres said about 25% of students who say they want to get into a four-year university actually do, and that needs to improve.

"How do we think unconventionally about recruiting those students? Because not all of those students are 18- or 19-year-olds," she said. "Some of the students we're really trying to pay attention to are those students that are 23, 24, 25 and older."

The New Mexico State University system has increased its focus on students transitioning from its branch community colleges in Las Cruces, Grants and Alamogordo, which Torres said is increasingly important.

"There's a lot of students who say, 'You know what? I want to start and I want to save money, or I want to start and I want to stay closer to home, or I want to start and I want to be at a smaller campus where I'm not feeling intimidated by the size.' This is a real opportunity for them, these sorts of transfers," she said.

Since opening in 1973, NMSU branch community colleges such as Doña Ana have developed programs to support students' transition to the main campus for courses that include criminal justice, pre-business and elementary and secondary education.


Support for this reporting was provided by Lumina Foundation.


get more stories like this via email
Environment
A new study is focused on concerns for Nebraska waterways. The three-year, independently funded research identifies rising levels of phosphorus and …
Health and Wellness
Inside a massive appropriations bill now in Congress is a provision which would allow federal funding for dental therapists. Dental therapists …
Environment
Promoting access to nature for underserved communities can improve quality of life while bolstering biodiversity and fighting climate change…
Social Issues
This holiday season, shopping at local small businesses could bring them as much as $88 billion, according to a survey from Intuit QuickBooks…
Social Issues
Minnesota's projected budget surplus now stands at more than $17 billion, and supporters of clean energy projects and other infrastructure needs say …
Environment
With Montana lawmakers looking at a large budget surplus, a group of hunters, scientists and landowners is asking them to consider creating a trust …
Environment
The Iowa Watershed Planning Advisory Council just released its annual report and said the Iowa Water Plan needs an update. The report showed climate …
Social Issues
By Phoebe Petrovic for Wisconsin Watch.Broadcast version by Mike Moen for Wisconsin News Connection reporting for Wisconsin Watch-Public News Service …