MI Educator: Engage With Your Kids' Social Media Use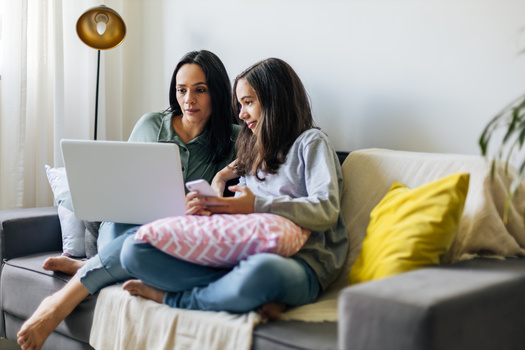 During Mental Health Awareness Month, experts, parents and health professionals are spotlighting the effects of screens and social media on young people's mental well-being.

This weekend, the University of Michigan is holding a Digital Wellness Symposium for middle schoolers and caregivers.

Liz Kolb, clinical associate professor of education technologies at the University of Michigan, who helped develop the symposium, said many young students have questions about being online and social media, but they do not always talk to their parents or caregivers about it.

She noted while reasons vary, some young people may worry about losing device privileges.

"For some, it's a way for them to have some positive growth and to stay connected with friends and family, especially during the pandemic," Kolb explained. "For others, they do struggle with some drama around their devices. And so it's important to be able to have these conversations."

The symposium will have opportunities for open and honest dialogue about Internet and social media use, as well as guest speakers; both experts on child wellness and U of M students.

Frances Haugen, a former Facebook product manager turned whistleblower, leaked details last year, including about how the platform's algorithms can make body image issues worse for some young people.

Meta, Facebook's parent company, said it has adequate internal policies in place to protect users and kids, but Haugen pointed out there are no federal regulations.

"If we hold children's toys to a product liability standard -- where you need to demonstrate you did safety by design, you know -- why aren't we asking the same thing of these virtual products for children?" Haugen questioned. "Especially as we move into the land of the 'metaverse,' which is going to be an emergent harm."

A bipartisan group of lawmakers has introduced the Kids Online Safety Act, to force tech platforms to, among other things, offer the option to disable certain addictive features and opt out of content chosen by algorithm. The bill has not seen action since February.

Kolb added it is also important to recognize healthy online behavior for one person may not be the same for another. She urged caregivers to engage in social media with their child.

"Sit down with them, set up the profile with them, talk about privacy settings, talk about notifications," Kolb outlined. "Maybe turning those off at certain hours, so it doesn't add stress levels, and do it with them. Get on TikTok even if you're not a TikTok-er, so that you can see what they're doing, and you can see what it's all about."


get more stories like this via email
Environment
Numerous community advocates are calling on the Metropolitan Transportation Authority to build a long-proposed subway station at 10th Avenue and 41st …
Social Issues
Relief may be on the way for many older Nevadans who need hearing aids but can't afford to pay $3,000 to $5,000 for a pair. The Food and Drug …
Social Issues
Workers in Michigan won major victories recently as a minimum-wage increase and employer paid sick time program were reinstated by court order…
Social Issues
Small-business owners and entrepreneurs in a handful of towns across the state have resources at their fingertips to help renovate and reuse historic …
Health and Wellness
Your first heartbreak, accident, loss of a loved-one or being chased by a dog - these and so many other incidents can be lasting traumatic …
Social Issues
A bill introduced in the U.S. House of Representatives would place limits on Supreme Court justices in the wake of several of the court's decisions…
Environment
The kelp forests off the Mendocino coast are starting to recover with improved environmental conditions, thanks to a conservation program which sent …
Social Issues
Madera Community College outside Fresno is making big plans after being named winner of the Million Dollar Community College Challenge Wednesday…