Experts: Lifestyle Changes Can Stem Onset of Pre-Diabetes, Diabetes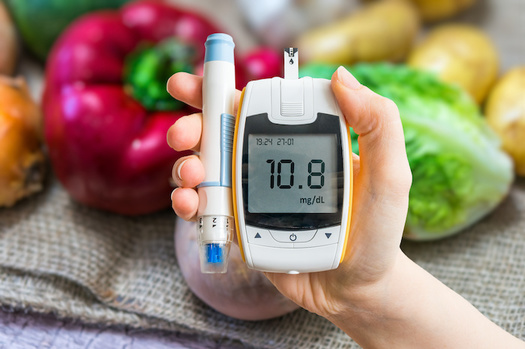 Thursday, November 18, 2021
NASHVILLE, Tenn. -- November is Diabetes Awareness Month, and state health experts say they are working to educate individuals on ways to reverse pre-diabetes and prevent the onset of diabetes through healthy lifestyle changes, despite challenges brought about by the pandemic.

Dr. Morgan McDonald, deputy commissioner of the Tennessee Department of Health, explained in pre-diabetes, a person's blood sugar levels are higher than normal, but have not spiked high enough to be diagnosed as Type 2 diabetes, and often shows no symptoms.

She added healthy eating habits and increasing physical activity can help stave off the condition.

"We've got good evidence that action taken early is helpful in preventing diabetes, both with lifestyle changes and sometimes with medications as well," McDonald emphasized.

To find out if you're at risk for pre-diabetes, McDonald recommended taking a one-minute test online at cdc.gov/diabetes/takethetest.

According to state data, more than 710,000 Tennesseans have been diagnosed with diabetes and nearly 10% reported being told they had pre-diabetes. Experts say the numbers are most likely underestimated.

McDonald also pointed out the pandemic has increased risk factors for chronic conditions such as diabetes among Tennessee's kids.

"Certainly kids have had less access to nutrition in many cases, and have been more sedentary," McDonald observed. "That has increased weight gain in our pediatric population pretty significantly."

She noted managing diabetes often requires regular doctor visits and testing, and recommended as COVID cases continue to plateau, now is the time to make preventive-care appointments.

"We really want to use this month to highlight the importance of people across the state to get tested, to get caught up on their screenings, to get caught up on those doctor visits and those immunizations that they've missed, and to take the time to exercise and plan meals," McDonald advised.

Research has found a link between diabetes and increased risk of severe COVID-19 infection. One study found more than 14% of patients who were hospitalized with COVID-19 and recovered also were newly diagnosed with Type 1 or Type 2 diabetes.


get more stories like this via email
Environment
A new study is focused on concerns for Nebraska waterways. The three-year, independently funded research identifies rising levels of phosphorus and …
Environment
Promoting access to nature for underserved communities can improve quality of life while bolstering biodiversity and fighting climate change…
Social Issues
This holiday season, shopping at local small businesses could bring them as much as $88 billion, according to a survey from Intuit QuickBooks…
Social Issues
Minnesota's projected budget surplus now stands at more than $17 billion, and supporters of clean energy projects and other infrastructure needs say …
Environment
With Montana lawmakers looking at a large budget surplus, a group of hunters, scientists and landowners is asking them to consider creating a trust …
Environment
The Iowa Watershed Planning Advisory Council just released its annual report and said the Iowa Water Plan needs an update. The report showed climate …
Social Issues
By Phoebe Petrovic for Wisconsin Watch.Broadcast version by Mike Moen for Wisconsin News Connection reporting for Wisconsin Watch-Public News Service …
Social Issues
Democrats have struggled to turn "red" rural areas "blue" across the country for years, but some left-leaning candidates won in 2022, raising the …